A 503A pharmacy that goes above and beyond
At our state-of-the-art compounding pharmacy in Dallas, Texas, we exceed industry standards for 503A pharmacies while filling a critical need for on-demand, patient-specific medications.
Our facilities, people and processes do more to reach the Current Good Manufacturing Practices (cGMPs) followed by 503B, or outsourcing, pharmacies. This allows us to ensure sterility and potency and enable extended Beyond-Use Dates—while offering you the medications and concentrations you need for your patients.
Exceeding USP <797> standards in Dallas
While compounding our combination surgical drops, OPDrops®, we must meet USP <797> standards. We are proud to go past these standards in many ways to produce drops of the highest quality.
AIS Healthcare Ophthalmics quality standard
USP <797> guidelines
AIS Healthcare exceeds standards
Facilities
Cleaning procedures
The direct compounding area is disinfected at least every 30 minutes as well as before and after compounding. AIS Healthcare uses only sterile cleaning products and uses sporicidals every day; industry standards only require these agents to be used monthly. All stainless steel materials in the compounding room (and throughout the pharmacy) have been custom fabricated to be consistently cleaned.
All ISO 5 spaces must be cleaned and disinfected at the beginning of every shift, every 30 minutes, before each batch, after spills and when any contamination is suspected. Pharmacies must use sporicidals monthly (non-sterile cleaning products acceptable for routine cleanings).
✓
Cleanrooms
All ISO classified environments are certified by a third party every three months
Only two certifications required per year
✓
Environmental control
Our environmental monitoring plan tests around 22 surface and air sites for both viable and non-viable particles using TSA and SDA plates. We conduct non-viable particle testing 12 times per year, and viable particle testing no less than 50 times per year.
Requires air sampling for viable particles to be done every six months or as needed, surface sampling for viable particles to be done periodically and non-viable sampling to be done twice per year.
✓
People
Pharmacists
OPDrops compounding is done only by licensed pharmacists. All of our pharmacists are specially trained in high-risk sterile compounding. Written competency exams and media-fill procedure and aseptic technique testing are administered every six months, and unannounced glove fingertip testing is conducted monthly.
Compounder not required to be a licensed pharmacist. All compounders must pass a written exam annually and aseptic technique, media-fill procedure and glove fingertip testing semi-annually.
✓
Processes
API testing
Our USP-grade active pharmaceutical ingredients (APIs) all come from FDA-registered suppliers with the original certificate of analysis and are sent to third-party labs for identification and potency testing.
Requires packages of bulk ingredients to be compliant with their USP monographs
✓
Formulation compounding and testing
All OPDrops formulations are tested by a third-party, independent lab. All stability studies include the use of fully validated stability-indicating methods. Our stability studies also include tests for sterility, particulate matter, pH and antimicrobial effectiveness.
No specific guidelines
✓
Filtration
OPDrops prescriptions undergo 0.22-micro pharmaceutical-grade filtration, including filter integrity testing, using an automated filter integrity testing machine.
No specific guidelines
✓
Bottles
We have performed particulate qualification testing for our OPDrops bottles.
No specific guidelines
✓
Throughout the entire compounding process, our independent internal quality department reviews our work and methods to help us continually improve safety and quality. This team reports directly to our CEO and CQO. We also work with industry leaders to help us find new ways to advance quality throughout our pharmacy.
Leading the way in USP <800> compliance to protect you, your staff and your patients.
A new set of industry standards, USP <800>, is designed to protect the more than 8 million healthcare and pharmaceutical workers who handle potentially hazardous drugs.
At our Dallas pharmacy, we made additional investments in new processes, staff training, and quality procedures to build a USP <800>-compliant facility before the requirements even went into effect, demonstrating our commitment to protecting everyone who works with us.
Learn how we exceed the new standards.
The new USP <800> standards are designed to reduce the risk that hazardous drugs pose to healthcare staff, patients and the environment. The standards include facility and engineering controls and cleaning and decontaminating procedures, as well as employee responsibilities to minimize the chances of exposure.
We exceed these standards throughout our pharmacy, doing more to protect patients and staff. Our packaging and processes, like our Closed System Transfer Devices (CSTDs), prevent hazardous drug exposure. These CSTDs, like the example below, help to keep healthcare workers safe when moving the medication into the syringe or dispenser.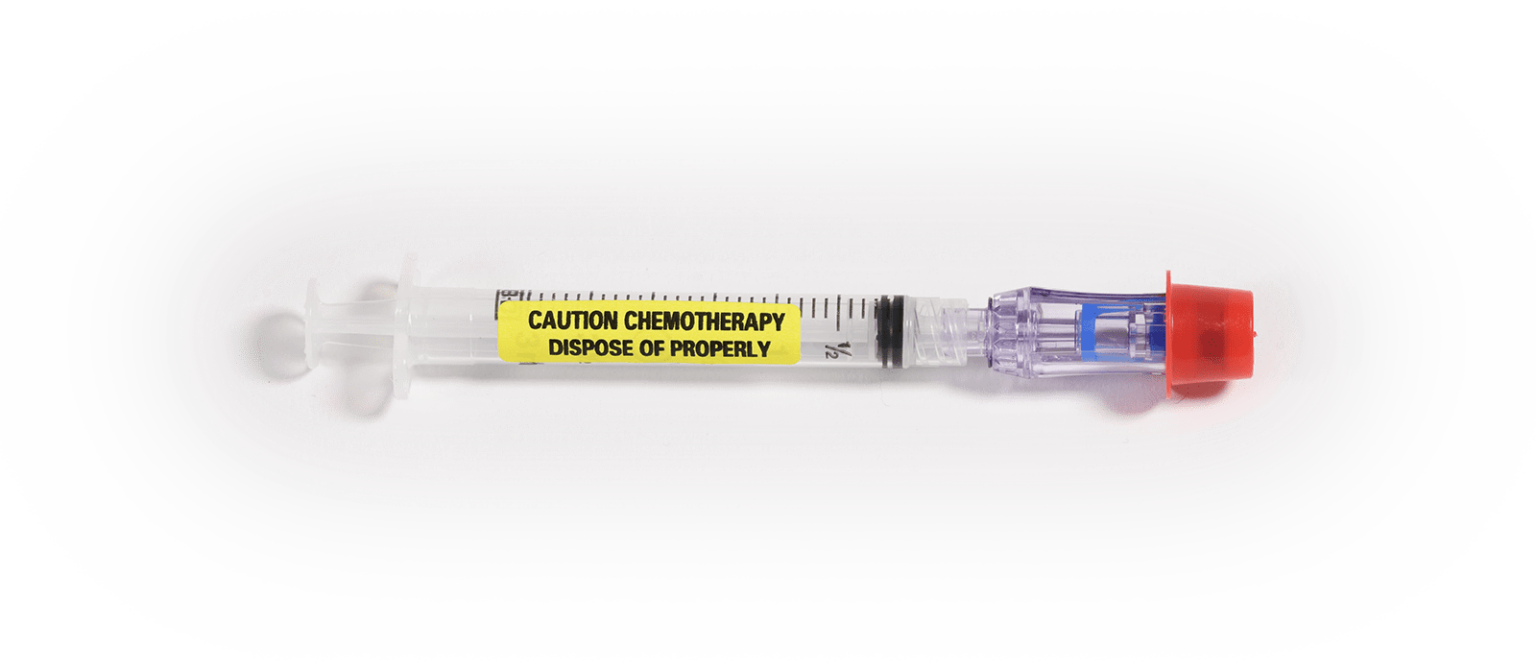 Patients are protected by our extensive decontamination program, which helps to eliminate hazardous drug residue on any product or package that goes directly to patients.
We're proud to go above and beyond to protect everyone who works with us.