Advancing quality standards
Our quality and sterility processes go above and beyond industry guidelines.
| AIS Healthcare quality standard | USP <797> guidelines |
| --- | --- |
| All stock solutions are prepared by a licensed pharmacist and tested by a third-party, independent lab for sterility, potency, particulate matter, pH and endotoxins before use in compounding | Not required |
| Compounding done only by licensed pharmacists | Compounder not required to be licensed pharmacist |
| Enhanced contamination-control procedures, including full-body sterile garb for cleanroom personnel | Only sterile gloves required for cleanroom personnel |
| Multiple 0.22-micron sterilizing-grade filtration steps, including filter integrity testing, to ensure medication sterility | Only one 0.22-micron sterilizing-grade filtration step required |
| Four independent cleanroom certifications per year | Only two required per year |
| Non-viable particle count done 12 times per year; combined viable air and surface sampling done no fewer than 50 times per year | Non-viable particle count and viable air sampling required twice per year; surface sampling required periodically |
Recognized and accredited
AIS Healthcare facilities are inspected by state boards of pharmacy as well as the U.S. Drug Enforcement Administration and the U.S. Food and Drug Administration (with zero Form 483 observations on the last inspection in our Ridgeland, MS facility).
We have also been recognized by the top independent pharmacy accreditors, URAC and the Accreditation Commission for Health Care (ACHC). ACHC's compounding accreditation division, PCAB, has assessed our compliance with industry standards, and URAC inspectors have confirmed our ability to consistently produce high-quality prescriptions for our patients. These accreditations validate our commitment to higher quality standards and set our pharmacies apart.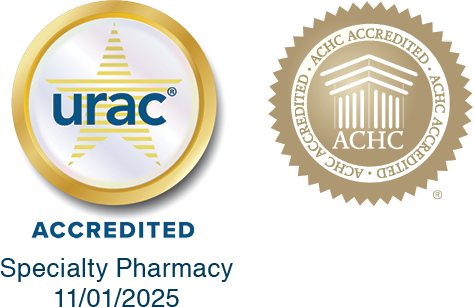 Exceeding standards—and expectations—at every turn
AIS Healthcare's state-of-the-art 503A compounding pharmacies have been designed and upgraded to support our industry-leading quality standards, and are filled with custom equipment and staffed by highly trained pharmacists and technicians.
Our quality and sterility processes have been designed in close collaboration with industry experts, and are regularly reexamined to find any areas of potential improvement. We've made all these investments to deliver medications of the highest possible quality to all the patients and providers we serve.